DOOME: Null Gods
01. A Premised Form

02. Delusion Over Others' Manipulated Ends

03. Null Gods
04. Gyre, and be found

05. Forced Wishes



"DOOME" is a research and development projects trilogy by Cheng Daoyuan that explores the digital domain from philosophical perspectives, conceived in 2020. The first piece, "DOOME: Null Gods" approaches the relationship between collective unconsciousness and the attachment and transformation of information, attempting to construct an apocalyptic scene that contradicts space-time through sound and video installations.

In 2022, Cheng Daoyuan stayed in residence under the Sound-Off project of the Creators program at Taiwan Contemporary Culture Lab and produced this project at the Taiwan Sound Lab. This site-specific production of spatial audio field combines three-channel video and 49.4-channel sound, blending the characteristics of space and sound field with sound dynamics and texture changes. It also attempts to guide viewers to different listening points in space by utilizing the time difference between sound and video installations.

The transformation between consciousness-carrying mediums, such as text, language, images, and sound is the key focus of this project, which are closely intertwined. Cheng uses his research records, text, and images creations during his residency as projections of his own consciousness, using his self-written content as the script for the overall narrative structure. He experiments with the effects of sound and video's sequencing, overlapping and layering, with the constant transformation between formats as connections and materials for construction. Compared with the superficial affections, he focuses more on the complementarity and harmony of the underlying initial thoughts.

This release has been downmixed from 49.4 channels to binaural format, with the configuration and impulse response of the spatial audio field, best listened with headphones.



Release Date : 29 March 2023
Produced, Mixing and Mastering by Cheng Daoyuan
Visual and Layout Design by Cheng Daoyuan
Original Photo by Taiwan Sound Lab

Special Thanks to
Taiwan Contemporary Culture Lab, Taiwan Sound Lab, DEAN Chi-You, LEE-Hwa, HUANG Ching-Yi, HUNG Tzu-Ni, LIN Tzu-Ning, XU Chia-Chun, YEN Sheng-Wen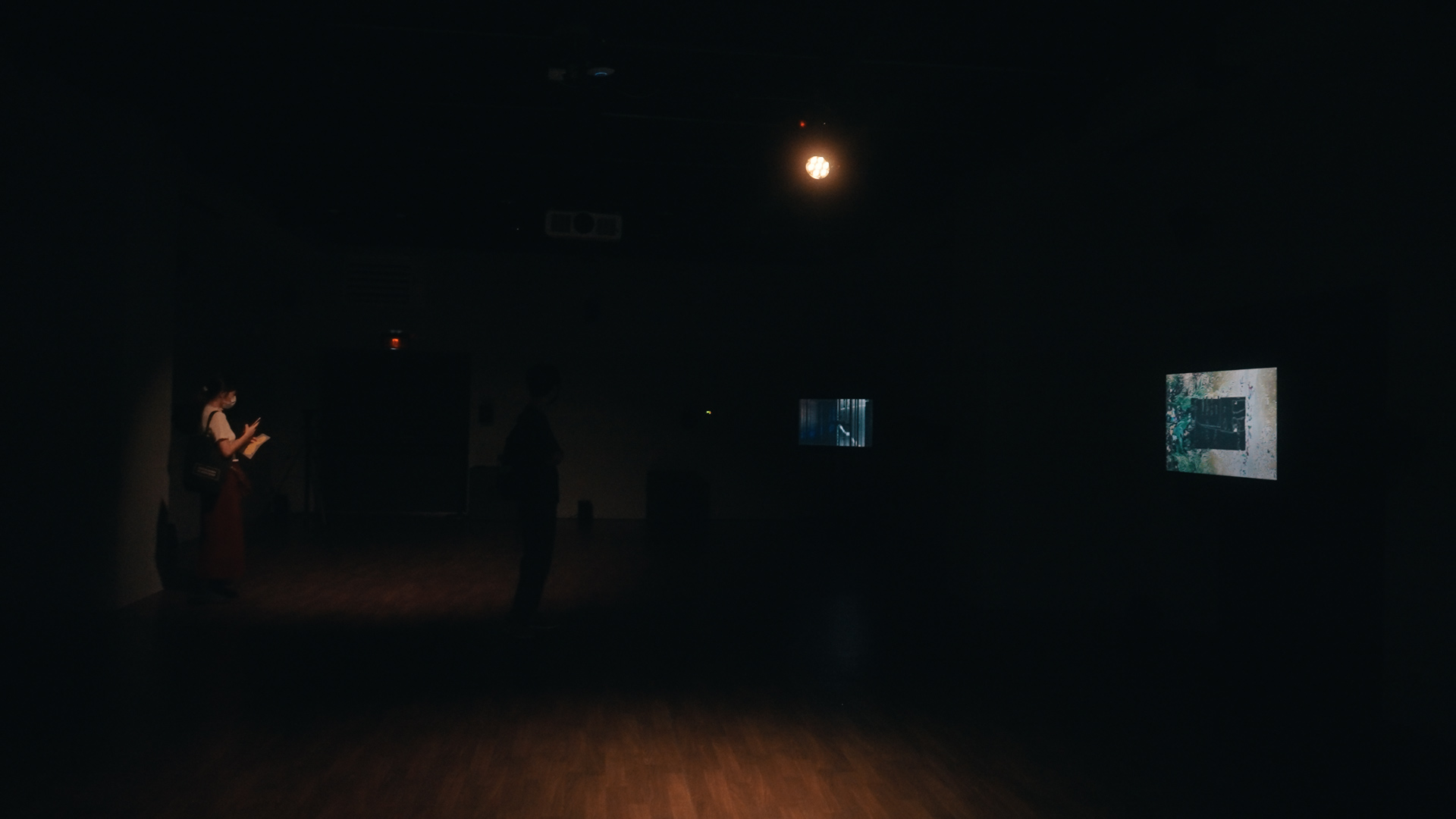 * this project is supported by the Sound Off 2022 residency plan of Taiwan Sound Lab, Taiwan Contemporary Culture Lab.


DOOME: Null Gods is a project which Cheng Daoyuan investigates the convergence and the orientation of the collective unconsciousness of human and digital data, which is embodied in a state between existence and nonexistence.

From languages and images to texts and digital files, our consciousness has been archived – and digitized – into various forms. If the depository of consciousness can be regarded as a form of transfer of the soul, what is the final destination of the souls of the digital dimension? If thousands of years ago people entrusted their consciousness to the gods, will today's human collective consciousness, connected through digital data, create a new form of god? And if doomsday is not the final scene for humanity and everyone will be reduced to a single consciousness, what will the post-apocalyptic world look like?

This project is a comprehensive experience that integrates the acoustic space of Ambisonics sounds, visuals and installations based on research concerning the relationship between the transition of sound phases, the composition of sound textures, and the structure of the procession of sounds. It is an experiment on the conversation between sounds and various other media that aims to create a dislocation in the senses of time and space.


---

《DOOME: Null Gods》旨在探討人類集體無意識與數位訊息匯流及導向,進而建構一個介於存、滅之間之狀態。

從語言、圖像、文本,到現在的數位檔案,意識正被歸檔、數位化,轉存為許多形式。若意識的存放可被視為靈魂的轉移,現今處於數位維度的靈魂最終又將歸往何處?資訊將人類的集體無意識串連,若千年前人類將意識寄託於神祇,那現今人們的集體無意識又是否會創造出一個新的「神祇」?以此概念延伸出人類最終的場景,末日並非一切的完結,人類最終將化為共同的唯一意識,在這之後又會是何種景象?

本計劃為建立於Ambisonics系統上之聲響空間與影像、裝置的複合呈現體驗,以聲音相位變化、質地疊加與行進結構之關係作為主要研究發展項目,實驗聲響與不同媒材間的對話,以期營造時間與空間感的錯位。